Loss of visual acuity, quality may be first sign of CLN3 disease
Children with vision problems should be tested for juvenile Batten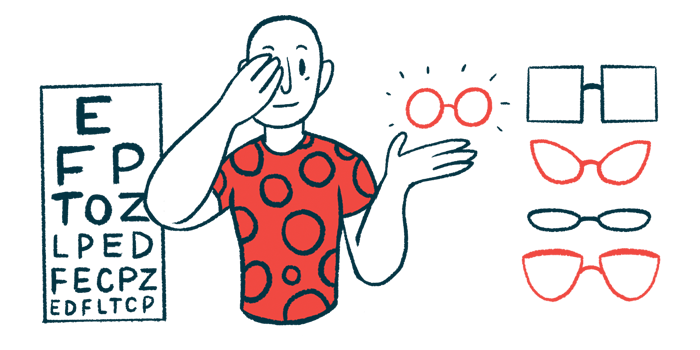 Vision problems — specifically deteriorating visual acuity and quality — were some of the first symptoms of juvenile Batten disease detected in four children with the rare inherited disorder, also known as CLN3 disease, according to a new study.
These early vision problems appeared before or alongside other neurological symptoms, the researchers noted. But the unspecific nature of these symptoms led to different first diagnostic steps being taken, affecting the time to a correct diagnosis.
Genetic tests showed that all four children carried the most common disease-causing mutation, emphasizing that a correct diagnosis may "easily be corroborated by carrying out a quick screening for the commonest CLN3 causal mutations," the team wrote.
These cases further emphasize that it is "important to consider [neuronal] ceroid lipofuscinosis in patients with blindness of unknown cause and in older children — especially CLN3," fully known as juvenile neuronal ceroid lipofuscinosis, the researchers added.
The study, "Deterioration of visual quality and acuity as the first sign of ceroid lipofuscinosis type 3 (CLN3), a rare neurometabolic disease," was published in the journal Metabolic Brain Disease.
Vision problems were among first symptoms for 4 children
Juvenile Batten is the most common form of Batten disease, a group of pediatric neurodegenerative disorders caused by mutations in one of 14 genes — CLN1 through CLN14 — that result in its different types. The juvenile form is associated with mutations in both copies of the CLN3 gene.
The disease overall is characterized by vision loss accompanied by progressive motor and cognitive decline and seizures. Other symptoms can vary widely due to the different disease-causing mutations.
Because of this variability, and the lack of disease-specific symptoms, diagnosing Batten is difficult and patients are often misdiagnosed at first. This leads to delays, often lasting years, in reaching an accurate diagnosis.
Now, a team of researchers in Poland described the cases of four young children with juvenile Batten, from two families, who experienced deteriorating visual quality and acuity as the first type of symptoms.
Two siblings, a boy and a girl, were born as healthy children to unrelated Polish parents. The boy experienced his first clinical symptoms at age 5. His vision acuity and quality then deteriorated, and he had seizures with impaired consciousness.
By age 14, when evaluated at a researcher's institute, his cognitive abilities were diminishing, and he had some muscle and reflex impairments, though his walking ability, speech, swallowing, and sleep were not affected.
A brain MRI and several tests assessing electrical activity in the brain and muscle showed no abnormalities. However, his vision was severely impaired and his retina — the thin layer at the back of the eye that contain light sensing cells — showed abnormal electrical activity and visible physical changes.
Genetic testing confirmed a juvenile Batten diagnosis by revealing that he had the most common CLN3 disease-causing mutation, known as the 1kb deletion, in both copies of the CLN3 gene.
His older sister had showed a similar clinical progression, with deteriorating visual acuity and quality a few years after birth. She then developed the same neurological symptoms as her brother.
At age 19, she was unable to walk, had small uncontrolled facial movements, and difficulty swallowing. A biopsy of the membrane on the inside of the eyelids revealed an accumulation of a fatty and toxic substance called lipofuscin, forming fingerprint-like shapes — a characteristic of Batten.
Biochemical analyses excluded infantile and late infantile Batten as possible diagnoses. However, DNA samples were not obtained from the girl or her parents, and a genetic confirmation of juvenile Batten could not be achieved.
Two sets of siblings all diagnosed with CLN3 disease
The two other patients, a 12-year-old boy and his sister, 7, were referred to the medical center of one researcher due to severe early-onset retinal damage. Both children also were born to unrelated, healthy parents.
The boy had some physical and developmental delays since birth and involuntary eye movements that started at age 3. This was followed by impaired visual acuity, degeneration of the retina, and thinning of the optic nerve, which conducts visual information to the brain.
His younger sister had impaired visual acuity but no involuntary eye movements.
At age 14, the boy began having seizures and increased muscle tension in the limbs, and was diagnosed with a form of epilepsy. By 18, he was referred to another institute due to cognitive and behavioral problems, epilepsy, and optic nerve shrinkage.
As part of a hospitalization at a third institute, additional analyses showed neurological signs in both siblings that pointed to Batten disease. The sister underwent a conjunctiva biopsy, which revealed the characteristic lipofuscin accumulation.
Comprehensive genetic testing and additional targeted tests revealed that the siblings carried the 1kb deletion in one CLN3 copy and a less frequent deletion (c.954_962+18del) also linked to juvenile Batten in the other gene copy.
While disease progression was not the same in these four patients, all had deteriorating visual acuity and quality as one of the first symptoms. Additionally, both pairs of siblings had some similar symptoms, but their healthcare providers made different diagnostic choices.
"It should be emphasized that due to the unclear [cause] of eye lesions and progressive loss of vision, the availability of [disease-specific testing] would provide a much faster solution, and patients would avoid the so-called diagnostic odyssey," the researchers wrote.