'Love, Kennedy' Film Chronicles Life of 'Amazing' Teen with Batten Disease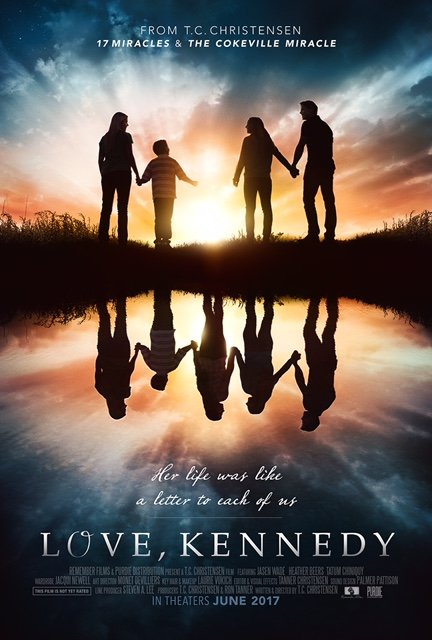 Kennedy Hansen had already lost her vision and most of her motor skills to Batten disease by 2013, but when the head of her cheerleader squad went around a circle at practice one day asking each member to name their life challenge, Hansen astounded everyone, including her parents, by replying she had none.
"Here is a girl who is blind, who regularly had severe night seizures and who was in pain, and who would die in six months," her father, Jason Hansen, said in an interview with Batten Disease News from his home in West Haven, Utah. "She was just amazing, so full of love. She'd hug everyone."
Kennedy died at age 16 on May 30, 2014, of the rare neurodegenerative disorder, which affects about one in every 100,000 people in the United States, said Margie Frazier, executive director of the Batten Disease Support and Research Association. Kennedy had juvenile Batten, one of the most common among its 14 forms. There are about 14,000 cases of Batten disease in the world, with around 1,400 new cases annually.
Kennedy had asked her parents to help raise awareness of the disease. Some days are harder than others, but Jason and his wife Heather are doing just that. They wrote a book called "Kennedy's Hugs" (Cedar Fort, available here or at Amazon.com) and were instrumental in the production of "Love, Kennedy," a movie based on the life and legacy of their spirited daughter. 
Although buoyed by religious faith and a supportive community, it's been a long, difficult journey for the Hansen clan, including years of trying to find out what was going on. Kennedy's first symptoms, which her parents later realized were misdiagnosed, included macular (part of the retina) degeneration when she was 8 or 9. Despite repeat visits to the doctor, Kennedy wasn't properly diagnosed until a year before she died, when a pediatric neurologist suggested genetic testing. Batten requires the inheritance of certain parental genetic material.
 "I think more people are being tested for it and more are being diagnosed," Heather Hansen, 41, said. "So many had it and passed away with no one knowing what it was."
In between, Kennedy developed cognitive issues, repetitive speech, and personality changes, and began having seizures and frequent falls. "It's a real ugly disease," Jason Hansen said.
Batten is one of roughly 50 diseases called lysosomal storage disorders, meaning that genetic mutations disrupt cells' waste disposal ability. With Batten, a buildup of proteins and lipids throws brain cells off kilter, resulting in progressive neurological impairment and premature death. Due to widely varying genetic mutations, the arc of Batten for each person can vary.
"We just wanted to help make her comfortable," Heather said. "We had decided we didn't want to go down the path of a feeding tube and just trying to keep her alive."
 Kennedy was aware of her illness — to a point. "As her brain cognition continued to decline she started regressing to a child's mentality," Heather said. "She always understood what was happening, but more on a basic level."
Yet Kennedy never complained. "We're very spiritual people," said Jason, 42, a sales executive. "She knew she was going home and she did it with grace and honor."
As Kennedy's disease progressed, the family relied on their network of support. After all, the Hansens had two other, adopted children to care for. "Everybody pitched in, whether it was donating money for expenses, or that amazing hospice group. It was wonderful. We wouldn't have been able to come out of this whole if it weren't for all of them," Heather, a stay-at-home mom, said.
Because Kennedy had asked her parents to share her story, Heather and Jason kept a journal the last year of their daughter's life. As fate would have it, Jason bumped into a filmmaker friend who, after hearing Kennedy's story, decided to present it on the big screen."We did not want this to be 'Hollywood,' though. We wanted it to be real," Jason said.
Filmmaker T.C. Christensen wrote the script based on Jason and Heather's notes and Kennedy's Facebook page, Kennedy's Hugs, which chronicled not only the disease's progression but Kennedy's miraculous last year, which included meeting the band Imagine Dragons. By the time of her death, the page, which Jason ultimately took over, had 60,000 likes.
Christensen lived for several weeks in the Hansen house and filmed a lot of the movie there. "We'd look around and everybody would be all teary," Christensen said. "But really, it's not just a tearful movie; it has humor and a message of hope and redemption. It was a joy from start to finish, a young girl's triumph over disease. She wanted to drive, have a boyfriend and become a cheerleader, and she accomplished all three."
Fremont High School was devastated when she died, he said. "They were so good to her. They had accepted her, looked out for her. She was one of them, and that's important for high school," he said.
In her final days, Kennedy's fellow cheerleaders came to say goodbye. Her funeral was attended by more than 1,500 mourners.
The movie, which closes with a homage to other Batten patients, opened in early June in Utah and will be showing through July in other Western states before becoming available on DVD. A portion of the proceeds from "Kennedy's Hugs" will go to Kennedy's H.U.G.S. Foundation, set up to help those facing a terminal illness.
"Just hug your kids, love your kids every day," Heather said. "That's one of the messages."